I'm far from perfect and I can't say that I always keep my promises, but I do always keep my promises when it comes to waffles. That's probably because I don't make a ton of waffle promises.
But, I did recently promise (to myself) to try out yeasted waffles because I've always just used a quick mix batter for them. To go avoid and beyond, I also added in some candied pecans to the waffles inspired from a local Denver brunch waffle I tasted a few weeks ago. Sure, you can just throw some pecans into waffles and they will be good, but taking the time to candy them first takes these Pecan Waffles to a whole different level!
Candied Pecan Waffles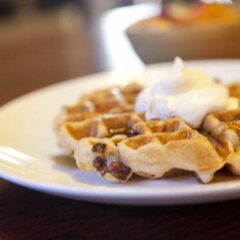 Candied pecan waffles made with a yeasted batter will kick up your breakfast a notch. Pretty easy to make and definitely delicious.
Ingredients
Waffles:
2

cups

milk

,

luke warm

1

tablespoon

sugar

¼

ounce

active yeast

1

cup

all-purpose flour

1

cup

whole wheat flour

6

tablespoons

melted butter

1

tablespoon

vanilla extract

2

large eggs

2

teaspoons

kosher salt

Maple syrup

,

for serving
Candied Pecans:
1

cup

chopped pecans

2

tablespoons

unsalted butter

2

tablespoons

brown sugar
Vanilla Whipped Cream:
1

cup

heavy whipping cream

1

tablespoon

sugar

1

teaspoon

vanilla extract
Instructions
For waffles, mix together warm milk, sugar, and yeast in a small bowl and let sit for five minutes until foaming. Then stir in flours, butter, and vanilla. Mix together well and then store in the fridge for 12-24 hours.

For candied pecans, add butter and brown sugar to a small saucepan over low heat. Once melted, add pecans and stir to coat. Continue to cook until pecans start to brown. Once they are smelling nutty and browned, immediately remove from pan and pour into a bowl. Stir and toss them to keep them separated as they cool.

To finish batter, whisk in eggs and salt to the waffle batter.

Heat your waffle iron and then add about 1/2 cup of batter (depending on waffle size). Dot batter with candied pecans and close waffle maker. Cook until golden brown, about 4-5 minutes.

Serve waffles with real maple syrup and vanilla whipped cream.
Nutrition
Serving:
1
waffle
|
Calories:
654
kcal
|
Carbohydrates:
48
g
|
Protein:
13
g
|
Fat:
47
g
|
Saturated Fat:
22
g
|
Polyunsaturated Fat:
6
g
|
Monounsaturated Fat:
16
g
|
Trans Fat:
1
g
|
Cholesterol:
149
mg
|
Sodium:
931
mg
|
Potassium:
375
mg
|
Fiber:
5
g
|
Sugar:
15
g
|
Vitamin A:
1273
IU
|
Vitamin C:
0.4
mg
|
Calcium:
166
mg
|
Iron:
3
mg
Did you make this recipe?
Pecan Waffles
Yeasted Batter
When you tell people you are making yeasted waffles, they are impressed because it seems like a lot of work (like homemade bread), but in reality it's dumb simple. It's not like you have to knead the batter or anything. You just let it sit in the fridge overnight and time does all the work.
So it does require some planning, but not a lot of work.
To get the batter ready to chill overnight, warm up your milk and add the sugar and yeast. Let that sit until it starts bubbling just to make sure yeast is working. Then add the flours, butter, and vanilla. Note that there is no need for a leavening agent like baking powder for this batter because the yeast does all the work.
Cover that and stick it in the fridge for at least 12 hours but 24 works also.
This was my finished batter after a long 24 hour rise.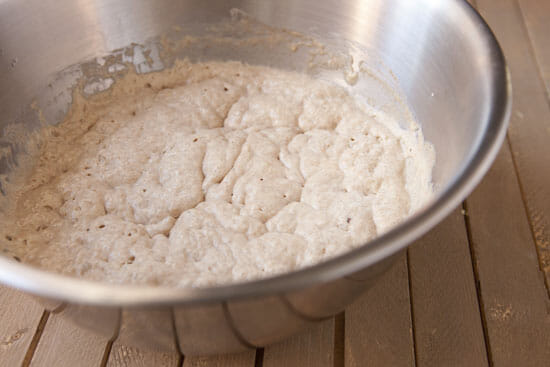 After the rise, stir in the eggs and salt and your batter is ready to go!
Pecans and Sugar
Getting perfectly candied pecans is trickier than making a yeasted waffle batter. I almost burned my batch, but saved it just in time. For this recipe, I recommend using pecan pieces which should be a bit cheaper than whole pecans.
Melt the butter and sugar together in a small saucepan over low heat. Then stir in the pecan and let them cook over low heat until they start to brown slightly and smell really nutty.
I'm serious when I say not to leave them. They will go from perfect to burned very quickly once the sugar starts caramelizing. I cooked mine for about 5 minutes and 10 seconds longer would've been too long.
When they are browned nicely, quickly pour the nuts out of the pan into a bowl and stir them to cool them quickly and keep the pecans separate. Don't leave them in the pan even if you remove the pan from the heat. They will continue to cook and probably burn.
I almost had to redo these, but they were okay.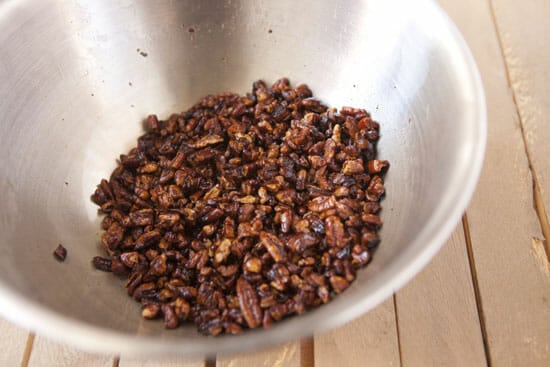 Making The Pecan Waffles
Assuming you have a waffle maker, making a waffle is pretty easy at this point. Just add about 1/2 cup of batter to your pre-heated waffle maker and quickly dot the batter with pecan bits.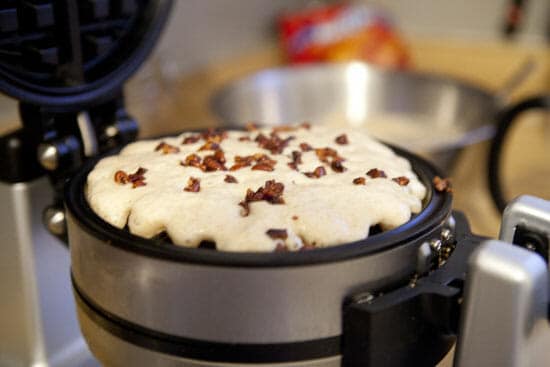 Close the iron and let the waffle cook for 4-5 minutes until it is golden brown and cooked through. Most waffle makers have a indicator to tell you when the waffle is done so you can just go by that as well.
When the waffle is done, take it out and serve it with lots of maple syrup and whipped cream.
Pretty hard to go wrong!
This was a delicious waffle. The flavor of the waffle itself was a lot more interesting due to the yeasty flavor. It also had more of a crunchy exterior and soft, puffy interior.
In the future, if I can plan ahead, I think I'm always going to be a yeasted waffle man from here on out. That's a promise!