A few months ago I was approached by a wine maker that I'd never personally heard of before called Woodwork Wine. They wanted some help developing recipes that paired well with their wines and after I saw what they were working on (and tasted my fair share of their delicious wine), I couldn't wait to work with them.
I'm very far from a wine snob and I think that's why we hit it off. They make a really delicious wine, but it's still approachable. I see it as the kind of wine I would be fine with drinking during a football game but also would serve to my wife's mom.
The kit I helped them plan is one of the coolest things I've worked on and while it's actually not available for sale, they gave me one to give away to you all!
Oh and also: ARTICHOKE STUFFED MUSHROOMS! On the grill even…. with artichokes and sun-dried tomatoes. Appetizer? Sure. Meal? Yep.
Artichoke Stuffed Mushrooms
Portobello mushrooms stuffed with artichokes and sun-dried tomatoes and grilled to perfection. A great appetizer for any party!
Ingredients
4

large portobello mushrooms

½

cup

diced red onion

1

14-oz.

can artichoke hearts

,

chopped

⅓

cup

minced sun-dried tomatoes

,

in oil

4

ounces

sharp cheddar cheese

,

grated

¼

cup

breadcrumbs

2

tablespoons

olive oil

Salt and pepper
Instructions
Prepare your grill for indirect heat grilling. If you're using charcoal, heat enough coals for one hour of cooking. Push the coals to one side of the grill.

If you're using gas, turn on one burner on medium-low (either the far side or the back burner of the grill depending on your model).

Scrub mushrooms well. Use a paring knife to hollow out the center of each mushroom. Be careful not to cut through the mushrooms. Drizzle mushrooms well with olive oil on all sides.

In a medium bowl, stir together red onions, chopped artichoke hearts, sun-dried tomatoes, and grated cheese. Season mixture with a pinch of salt and pepper.

When ready to grill, place mushrooms (unstuffed) stem-side down over direct heat. Grill for 1 minute until mushrooms have nice grill marks.

Flip mushrooms and transfer to an indirect heat area of the grill. Spoon filling into each mushroom. Go heavy on the filling. It's okay if you lose some, but you should use it all.

Sprinkle each mushroom with breadcrumbs and cook for 20 minutes, covered, over indirect heat. Rotate the mushrooms once halfway through to make sure they are cooking evenly.

Mushrooms are done when the mushroom is tender and the cheese is melted in the filling. Serve mushrooms while warm.

OPTIONAL: If you don't feel like firing up the grill, you can assemble the mushrooms and bake them at 350 degrees F. for 25-30 minutes.
Nutrition
Serving:
1
mushroom
|
Calories:
254
kcal
|
Carbohydrates:
16
g
|
Protein:
11
g
|
Fat:
18
g
|
Saturated Fat:
7
g
|
Polyunsaturated Fat:
1
g
|
Monounsaturated Fat:
7
g
|
Trans Fat:
0.003
g
|
Cholesterol:
28
mg
|
Sodium:
254
mg
|
Potassium:
685
mg
|
Fiber:
3
g
|
Sugar:
7
g
|
Vitamin A:
365
IU
|
Vitamin C:
5
mg
|
Calcium:
230
mg
|
Iron:
2
mg
Did you make this recipe?
Artichoke Stuffed Mushrooms
If you're hosting a party, it's possible to make these with smaller mushrooms. The filling is great and the recipe makes enough to stuff probably 30 smaller mushrooms.
Personally though… that's a bit too much work. I'm happy with the big ones. You can cut them up easily if you're serving them as an appetizer, they hold together better on the grill, and are just easier to work with.
I recommend using a paring knife to cut out the stems and some of the softer flesh around the bottom of the mushrooms. Then sprinkle them with a good drizzle of olive oil and season them well with salt and pepper. Five minutes of prep and these are ready to go.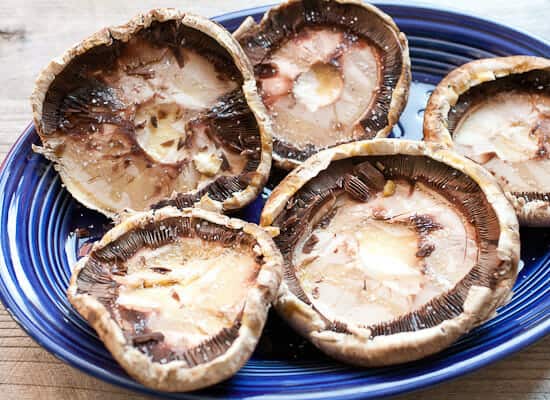 Mushrooms have big flavor. They are definitely the meat of the veggie world and that's why they pair really well with big hearty wines like cabernet sauvignons.
You wouldn't want to use a light filling for these. You want big flavors. This filling with artichokes, red onion, and sun-dried tomato is about as big as it gets.
I mixed in a little sharp white cheddar also because why not?
Grilling the Mushrooms
I'm sort of hanging onto the last solid days of grilling here. I'll grill when there's snow on the ground. Watch me!
If you're not in the mood to grill though, these are great in the oven. Stuff them full and bake them at 350 degrees F. for about 30 minutes and you'll love them.
If you are using a grill though, prep your grill with a direct heat and indirect heat zone. For charcoal that means move your coals to one side. For gas that means turn on one side of the burners but leave one side off.
Start the mushrooms stem-side down without any filling over the hot section of the grill. It'll hiss and yell, but it's good.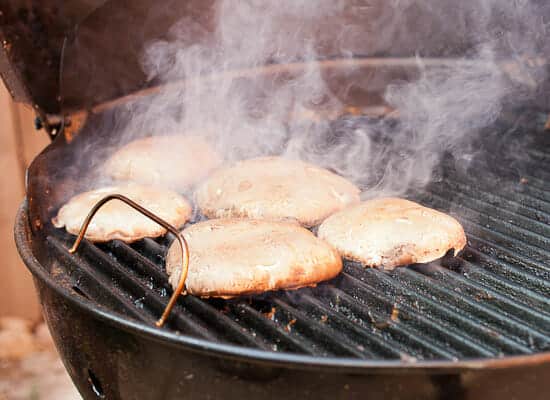 Let those cook for a few minutes and then flip them onto the indirect heat side. Then stuff them with the filling. I mean really pile it on! Add a sprinkle of breadcrumbs to the top if ya want.
Cover these and cook them for 15-20 minutes over indirect heat. You'll probably need to rotate them once during cooking to make sure they are cooking evenly.
The finished mushrooms are great as a meal with a good salad or as an appetizer. Who doesn't love a good stuffed mushroom?!