If you've been reading this little website occasionally, you might know that we just moved back into our home after a massive renovation and addition onto our house.
I summarized some of the construction successes and woes in this wrap-up post, but I thought it would be fun to zoom in on the kitchen since that was a huge focus for us in this renovation.
How We Got Here
We bought our downtown Denver square home in 2014 and basically bought it with the dreams of someday doing a large renovation to the house. It was screaming for some renovation love and had a lot of wasted space.
The kitchen was pretty nice, but had some elements that really got to me over the years. Namely, a weird corner sink, a glass electric range that was hard to clean, and a not completely functional peninsula.
Since we were adding onto the back of the house (through the door in the above photo), our designer had the idea of using the new square footage for an entirely new kitchen. This was the right call.
We started construction after many months of permit and city delays in about February of 2020. GOOD TIMING, RIGHT?!
Fast forward a pandemic year and this was the framing for our new kitchen. It raises my blood pressure to look at this photo.
For some reason, I had a desire to put my own touch on the kitchen. While I'm not a carpenter and had no interest in doing any wood work, I am decent at tile work (and my mother is as well).
Betsy and I picked out this wonderful antique tile that just fit our house perfectly (in my opinion). It was not a small purchase for us and I decided to install it myself.
This ended up being a fairly stressful endeavor, but it went okay. Here's a photo from the progress!
I'll be the first to admit that the tile isn't perfect and if you stare at it for too long, you'll see mistakes, but I'm pretty proud of it and it's a unique floor for a unique (and old) home.
Fast forward a few more months and many thousands of tiny decisions and this is the current state of the kitchen.
I realize the kitchen is not a design that everyone will love. It bucks the trend of white cabinets and sleek, modern floors, but I do believe that it fits our house nicely. Our house was built in 1892 and has a lot of 100-year-old character so a modern white kitchen just felt off to me.
My New Range
This portion is sponsored by Blue Star Cooking. I worked with them to design the range I chose and I received a discount on the range as well.
I spent an incredible amount of time thinking about the range that I wanted in my kitchen. I knew I wanted a double oven configuration so I was just in the market for a range top, not a full oven and range combination.
The only other thing I new is that I wanted a gas range.
I ended up spending an afternoon with our designer at a kitchen appliance studio testing literally every range they had. It was fun, but after testing all of them I landed on a Platinum 36" Range Top from Blue Star.
To be honest, I had NEVER heard of Blue Star before I tried their range. It had a ton of features though that just made sense to me.
The base configuration has six sturdy burners that vary in strength from a massive 25,000 BTU burner to a low simmer burner.
Burners are easy to remove for cleaning.
You can switch out two burners in any spot for a sturdy cast iron griddle or CharBroiler. I have kept the griddle on mine since I started using it. It's amazing.
A Service Note: I had an opportunity with this Range Top that I almost never get. I had a PROBLEM with my range when I got it. Two of the burners had a strange clicking sound when they ignited, like the sensors didn't detect the burner was on and continued to try to light.
Rather than call the marketing team, I wanted to test out the service so I called their normal service line and gave them my information. I got to speak to a human right away and they set up a service call immediately. I had someone out within a few days to replace the parts and I was all set. EXCELLENT SERVICE!
Finishes and Appliances
Here's a brief summary of some of the other finishes and suppliers we chose for the kitchen. I fully recommend all of these.
Oven/Fridge: KitchenAid. Particularly their dual oven combination has been a real joy to use and it eliminates the need for a microwave.
Floors: American Restoration Tile. Amazing service and quality. While I was installing the tile I noticed I was missing a corner piece of the border and they immediately overnighted a new one to me. A+
Cabinets: Avalon Cabinets. This is a local Denver cabinet company that makes incredible cabinets. I could not be happier with our cabinets. Yes. They were pricy, but you can definitely spend more on cabinets. I'm so impressed with the quality of our cabinets.
Counter Tops: We went with a quartz for our counter tops. The exact finish we went with is called Cashmere Carrera which tied in some browns and blues from the floor and cabinets.
Contractor: I have to give a shout-out to our contractor, Daniel Berkovitz from Alimar Construction. In true contractor form, he doesn't really have a website, but is a great builder. We had a few stressful moments over the last 18 months, but it all worked out and we are really happy with our new home.
Designer: Jan Neiges. A joy to work with and laid out the entire kitchen for us. While I spend a lot of time in the kitchen, it turns out I have no idea what the best layout for one is!
Architect: Jason Ruby. If you are in the Denver area, Jason is a thoughtful and professional independent architect.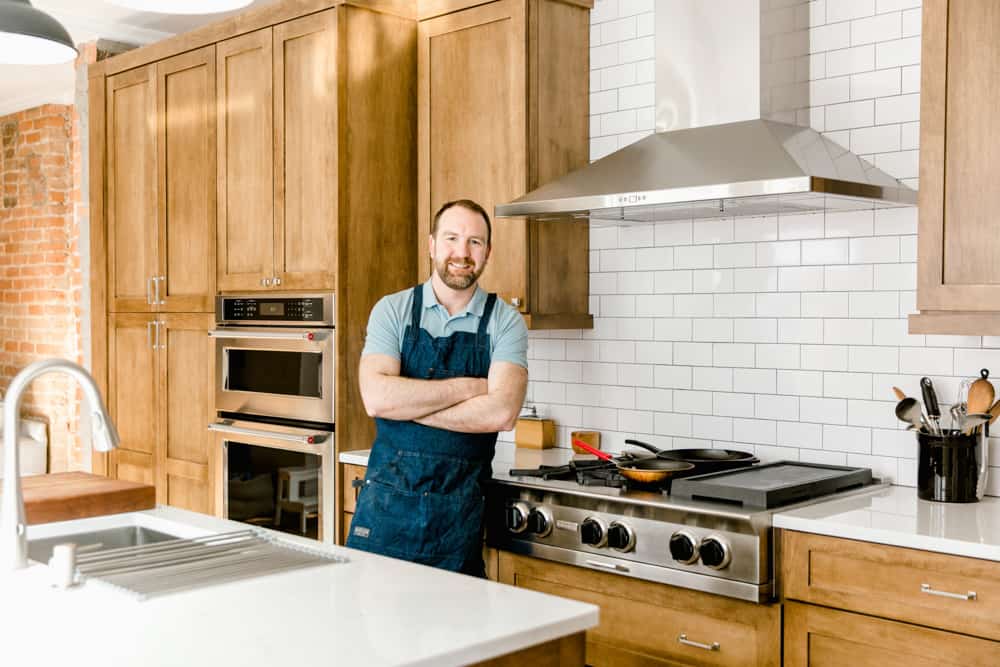 This has been a 2 1/2 year project for us and while it's not completely done (we are STILL waiting on a final inspection from the city), it's mostly wrapped up.
I'm Excited to Cook!
I think Betsy will be the first to tell you that I've been inspired to get back in the kitchen with this new setup. I've been cooking A LOT and it feels wonderful.
If you have any questions about the project, leave a comment!
Photos by Liana Kim Photography