This whole week I'm posting five recipes from long ago that are my wife's favorite recipe requests. These recipes got buried in the archives so I'm taking this week to bring them back to life!
Sometimes. In the Winter. You need something comforting. Something that makes you feel at home. I had a need for something like that a week ago and so I came up with these Savory Breakfast Rolls.
I call it the savory roll. It is a brioche dough which is rolled around pork sausage, pesto sauce, and mozzarella. Oh and there is gravy obviously. This dish was a little bit of work, but my goodness was it delicious. Betsy and I ate them for an entire week and we never got sick of them. Let's make them.
Savory Breakfast Rolls
Brioche dough rolled around savory pork sausage, zesty pesto sauce, and mozzarella cheese and topped with gravy! Perfection!
Ingredients
¾

Cups

warm water

¾

Tablespoon

yeast

,

3/4 packets

2

Teaspoons

salt

4

eggs

,

beaten

¼

Cup

honey

1½

sticks unsalted butter

,

melted

3 ¾

Cups

all-purpose flour
Pesto:
2

cups

fresh basil

¼

cup

olive oil

2

tablespoons

pine nuts

2

tablespoons

Parmesan cheese

1

clove

garlic

Pinch

of salt and pepper
Pork Filling:
1

pound

ground pork sausage

½

white onion

,

diced

2

tablespoons

fresh sage

,

chopped

Pinch

of salt and pepper

6-8

ounces

mozzarella cheese

,

grated
Gravy:
¼

cup

all-purpose flour

2

cups

milk

Drippings from sausage filling
Instructions
To make the dough, combine all ingredients except flour and mix well. Then slowly mix in flour. Dough will be very moist.

Cover dough loosely and let rise at room temperature for 2 hours. Then store in fridge overnight if possible, but at least chill it for a few hours.

The night before you can also make your pesto by pulsing all the pesto ingredients together in a food processor.

The morning of baking, add pork sausage to a large cast iron skillet over medium heat long with onion, sage, and a pinch of salt and pepper. Cook until sausage is browned nicely, about 10 minutes. Then remove but don't wash pan as it will be used for gravy also.

Remove dough from fridge and roll it into a large rectangle (about 20×16) on a well-floured surface.

Spread pesto evenly over rolled out dough. Then top with sausage and cheese.

Carefully roll dough into an even roll. Once the dough is rolled, slice it into eight even, large pieces.

Add rolls to a buttered baking dish (9×13 works well) and let them rise for about an hour. Preheat oven to 375 degrees Fahrenheit.

Bake rolls for about an hour at 375.

To make gravy, add flour to drippings from sausage in the cast iron skillet over medium heat. Whisk together to form a roux in the pan.

Slowly whisk in milk until roux thickens into a gravy. Season with salt and pepper and keep warm for serving.

Serve finished rolls with a good amount of gravy!
Nutrition
Serving:
1
roll
|
Calories:
655
kcal
|
Carbohydrates:
62
g
|
Protein:
26
g
|
Fat:
34
g
|
Saturated Fat:
11
g
|
Polyunsaturated Fat:
5
g
|
Monounsaturated Fat:
15
g
|
Trans Fat:
0.1
g
|
Cholesterol:
148
mg
|
Sodium:
1154
mg
|
Potassium:
407
mg
|
Fiber:
2
g
|
Sugar:
13
g
|
Vitamin A:
737
IU
|
Vitamin C:
2
mg
|
Calcium:
249
mg
|
Iron:
5
mg
Did you make this recipe?
Savory Breakfast Rolls
The Dough
Step one is making the dough, which you need to start at least the day before, but could do a few days before whenever you have time.
Combine every ingredient except flour and mix well. Then mix in the flour. The dough will be very moist – gooey even. Let this dough sit and rise at room temperature for 2 hours and then into the fridge for at least a few hours, but ideally overnight. You will not be able to use this dough unless it is cold.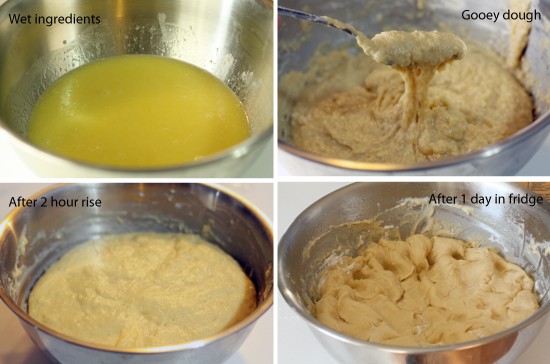 The Pesto
One more thing you can do the night before is make the pesto. You can, of course, make this the day of also.
A confession: I don't have a set recipe for pesto. Everytime I make it, it is a bit different. It usually involves a handful or two of basil leaves, a Tablespoon or two of pine nuts, a clove of garlic, salt and pepper, and enough olive oil to bring it all together into a pesto like paste.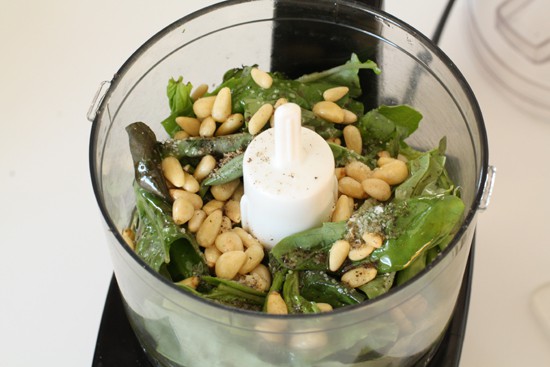 The Filling
The morning of you are going to need to make the pork filling. You could, of course, use beef or turkey but I really think pork gives it a nice flavor. I started with a little over a pound. I also added about 1/2 of a chopped onion, some chopped fresh sage, and salt and pepper. I added the sage just because I had it. You could also add dry spices like tarragon, basil, oregano, etc.
When you are done with the pork, don't wash this pan. We are going use the drippings for gravy.
Take your dough out of the fridge and on a well floured surface roll it into a long rectangle. As you can see, mine was probably 20 inches by 16 inches.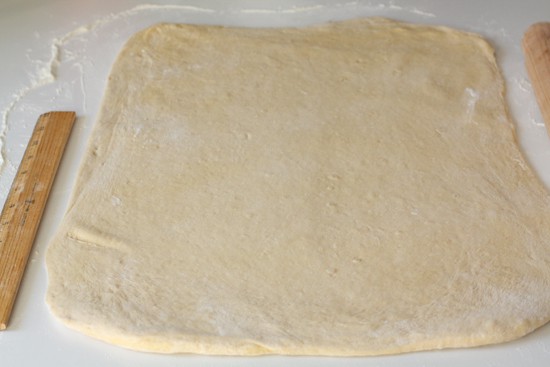 Then layer on your toppings. Put down all of your pesto, then your ground pork, and finally your cheese.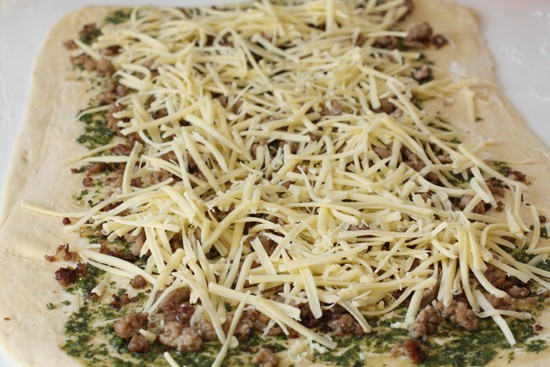 Rolling this thing is a bit of a trick. Roll it from left to right or right to left, whatever is easiest for you. If your dough is sticking to the table, go slowly, and use a dough scraper or butter knife to release the dough from the table.
Eventually, you will end up, hopefully, with a tube of rolled awesomeness. Cut this with a serrated knife into eight even sections.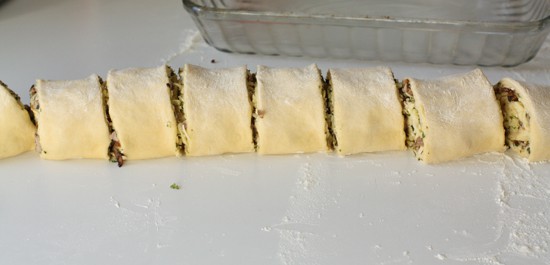 Turn these guys upright in a buttered dish and let them rise for about an hour. Meanwhile, preheat your oven to 375.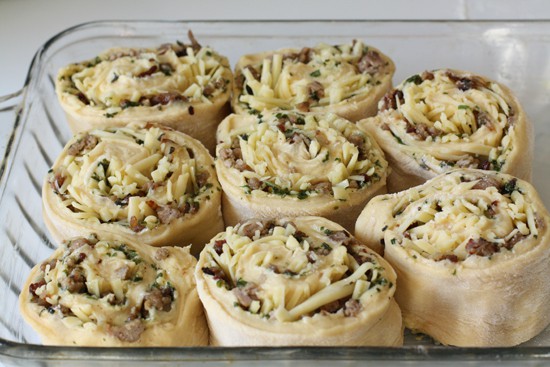 These Savory Breakfast Rolls need to bake for a long time. About an hour. I baked mine for 45 minutes and the outer buns were done, but the interior ones were still a bit soggy in the middle.
The Gravy
While those are cooking, let's talk gravy. You should have a decent amount of fat left over from the pork and probably even some leftover ground pork. Get all of that in your pan and put it on medium heat. One tablespoon at a time you want to add flour in an equal proportion of fat.
It doesn't have to be exact. I guessed that I had about 5 Tablespoons of fat from the pork, so I added 5 Tablespoons flour. Stir this together and the flour will start to cook slowly and brown. This, my friends, is a roux.
After about 5 minutes, you will end up with this:
Then, very slowly, whisk in about 2 cups of milk. There will be steam. Whisk furiously. Try to whisk out any clumps that form. I added about 1/4 of a cup at a time and eventually ended up with this lovely, creamy gravy. Salt and pepper to taste.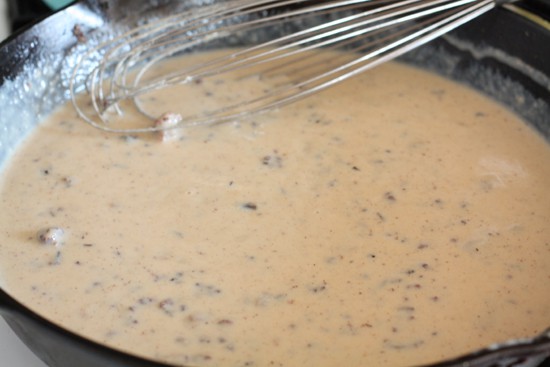 After an hour, pull out those buns. They will look like, well, breakfast perfection.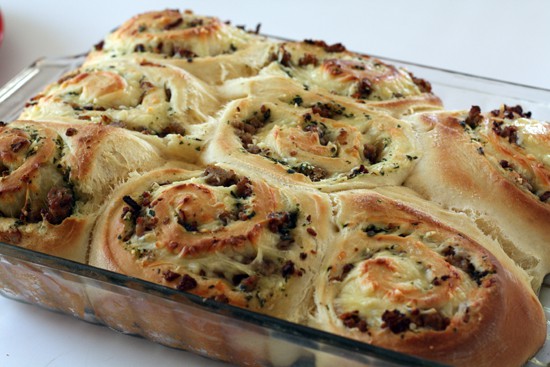 Serve up one of these and ladle plenty of gravy over the top.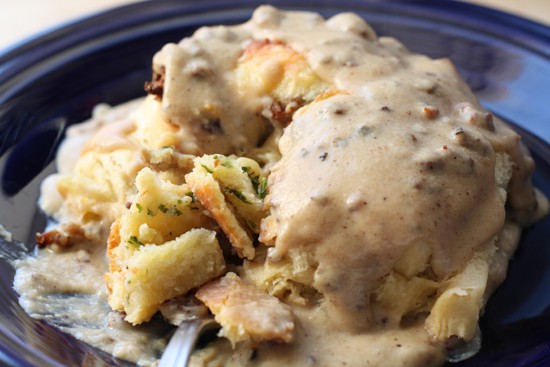 This is some of the best breakfast I can imagine. The roll is flaky and light and a bit sweet. It holds up nicely though to the spiced pork and pesto. The cheese holds everything together and the gravy is well, gravy.
This is real comfort food in my opinion.
Everyone should have this recipe. I would love it if you used the icons on the left side to share it with the rest of the Internet.