Ok. So you guys might make fun of me for this post. It was one of those moments (and I know everyone has probably had one of these) where I realized that I was doing way more work than I needed to be doing for the result I wanted.
I had in my mind what I thought was an awesome idea for a quesadilla (which won last week's poll by a hair). My idea was to turn the traditional French dish of Ratatouille into a quesadilla. I thought this was a grand idea and I moved full-steam ahead.
The end result was actually delicious!
The problem was that it required a bit more work than what most people are probably willing to do to produce a simple quesadilla. You'll see what I mean…
Warning: If you're French, you might want to stop reading because it's possible I demolished this dish.
Ratatouille Quesadilla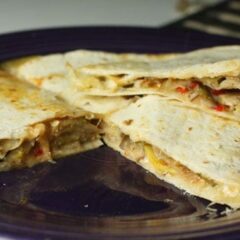 A quesadilla filled with the summer veggies that are in a traditional ratatouille dish!
Ingredients
2

baby eggplants

,

sliced thin

1

medium zucchini

,

sliced thin

1

medium squash

,

sliced thin

1

red pepper

,

sliced thin

1

poblano pepper

,

sliced thick. Just kidding, sliced thin.

1

Cup

tomato sauce

1

Tablespoon

Herbs de Provence

,

optional

Pinch

of salt and pepper

Drizzle of olive oil

2

Cups

pepper jack cheese or other spicy cheese

8

Tortillas

Pinch

of cayenne pepper

Toppings for quesadilla: sour cream

,

or greek yogurt, salsa, guacamole, etc.
Instructions
Slice the squash, zucchini, eggplant, and peppers very thinly with a mandoline or with solid knife skills.

Put a thin layer of tomato sauce in the bottom of a baking dish and stack the vegetables in the pan sitting on their edge.

Stack until you've used all your veggies. Sprinkle with Herbs de Provence (or your other favorite herbs) and bake at 350 degrees for about an hour.

When the veggies are done, let them cool for a bit.

Layer cheese and as much veggies as you can take between two flour tortillas and bake on a baking sheet at 400 degrees for 7-8 minutes and then flip and bake for the same time on the second side.

Top with guacamole, sour cream, hot sauce, or salsa. Serve immediately!
Nutrition
Serving:
1
Quesadilla
|
Calories:
546
kcal
|
Carbohydrates:
67
g
|
Protein:
24
g
|
Fat:
23
g
|
Saturated Fat:
13
g
|
Polyunsaturated Fat:
2
g
|
Monounsaturated Fat:
6
g
|
Cholesterol:
50
mg
|
Sodium:
1087
mg
|
Potassium:
1472
mg
|
Fiber:
12
g
|
Sugar:
16
g
|
Vitamin A:
21834
IU
|
Vitamin C:
117
mg
|
Calcium:
650
mg
|
Iron:
6
mg
Did you make this recipe?
Making the Ratatouille
Ok. There are a lot of way to make this dish. Traditionally, the veggies are lightly fried first, then layered with sauce and baked. Currently, one of the more popular methods of making the dish was popularized by the movie "Ratatouille" which one of my friends (Hi Mike) claims is one of the Top 5 Movies OF ALL TIME.
That method of making the dish is traditionally called a Confit Byaldi which was popularized by Mr. Keller. I used pretty standard ingredients in mine except I threw in a poblano pepper mainly because I was making quesadillas and I thought it would give it some Tex-Mex flare.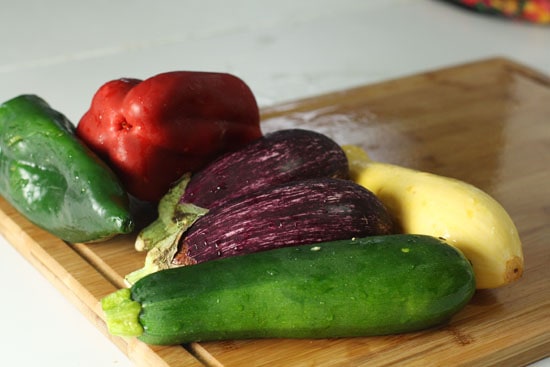 The key to a good ratatouille (in my mind anyway) is to have evenly-sized, thinly sliced veggies so they cook evenly and identically. Can you do this with a knife? OF COURSE.
But if you happen to have one, now would be the perfect time to pull out your mandoline slicer which makes short work of things like this.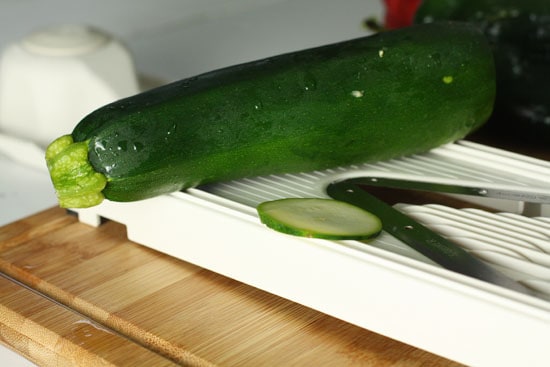 It took me about 20 seconds to dice up this zucchini for example into almost perfectly uniform little rounds.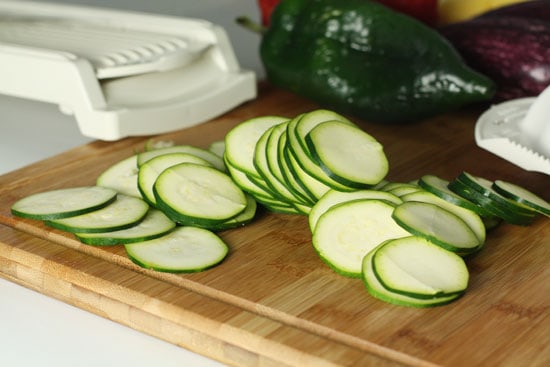 And the peppers were just as fast!
This Is the Part Where I'm Ridiculed
You might know where this is going, but allow me too explain. You see, I wanted my ratatouille to look like the ratatouille in, well, Ratatouille. I didn't have an exact recipe for this, but I knew it involved very carefully layering your ingredients and baking them.
So I added a bit of tomato sauce in a baking dish, and started layering!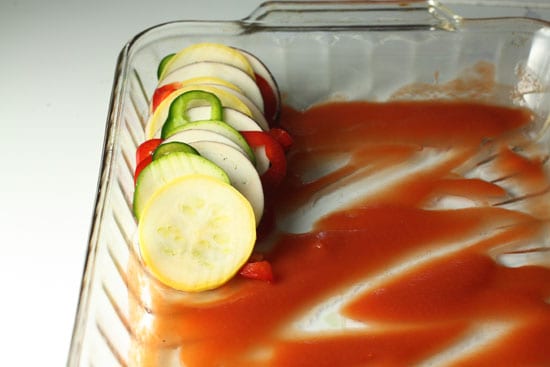 Looks pretty right?!
It took me about 10 or 15 minutes to make this beauty of a dish.
It, of course, then dawned on me that after these are done baking, I'm going to just rip them all up and stuff everything between two tortillas so I could've just roasted them in any darn fashion I wanted.
But the layers were so pretty! I couldn't help myself.
However you decide to roast them, don't forget to layer the tomato sauce under the veggies and sprinkle on your herbs if you're using them. These add some awesome flavor to the veggies.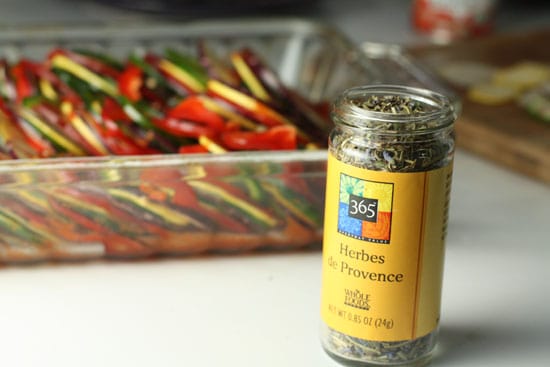 Roast these guys in a 350 degree oven for about an hour. That might seem like a long time but there's a ton of water in these veggies and you want it to cook out or you'll just end up with soggy quesadillas later.
They look and smell great when they come out though.
Cooking the Quesadilla
I like to bake my quesadillas in the oven at about 400 degrees for 10-15 minutes and flip them halfway through.
Basically just pile as much cheese and veggies as you can handle in between two flour tortillas. I also added a sprinkle of cayenne pepper which was complete overkill because I was using really spicy Habanero cheddar cheese.
Half way through cooking, use a big spatula (or slide the quesadilla onto a plate) and give it a flip!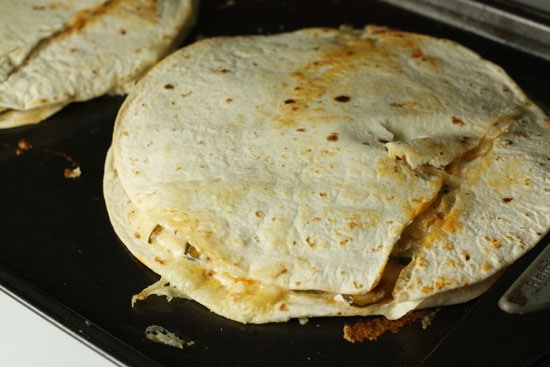 After the cheese is melted and the tortilla is crispy, it's done! I always cut mine up with a pizza cutter and serve it with lots of toppings.
At the end of the day, this quesadilla was completely delicious. The summer veggies were a perfect addition. It's also a good idea to cut the veggies thin like that and roast them because it gets out extra moisture and intensifies the flavors. All good things for a quesadilla.
But, like I said, if you aren't going to serve it all pretty then there is no real reason to layer it all pretty. Just get the things roasted!
Now, you could of course eat this as a very nicely presented ratatouille over rice or pasta on night one and then turn the leftovers into a quesadilla on day two… I'm just trying to justify the pretty layering here people.