This Pressure Cooker Pork Ragu is one of those magical recipes that should take hours, but is actually done in about an hour thanks to the joys of the pressure cooker! If you don't have a pressure cooker, no worries! Use a slow cooker and it'll be just as good!
As with many slow-simmered sauces, the key to this ragu is to take the time to brown the meat well before you stick it in the pressure cooker. Also, saute the vegetable aromatics so their flavors can develop as well. It's totally worth the extra work!
Once the ingredients go in the pressure cooker, you can pretty much set it and forget it. When the timer goes off, you will be in for a classic Italian dinner!
Pork Ragu Ingredients
The only chopping you need to do for this ragu is the aromatics. I like to use shallot instead of a whole onion. They are a bit sweeter and work better with the pork in my opinion. That said, if you have a bunch of onions, you can use those also! One large onion will be more than enough.
Other than that, I like to keep the ingredients simple for this ragu. A carrot, some celery, and garlic are all you need for the aromatics. Then you add in some red wine and tomatoes for the liquid for the ragu.
There are many ragu recipes that have more ingredients in the list, but in my opinion, this should be a simple comfort food recipe and it is plenty delicious keeping the ingredients list short and sweet!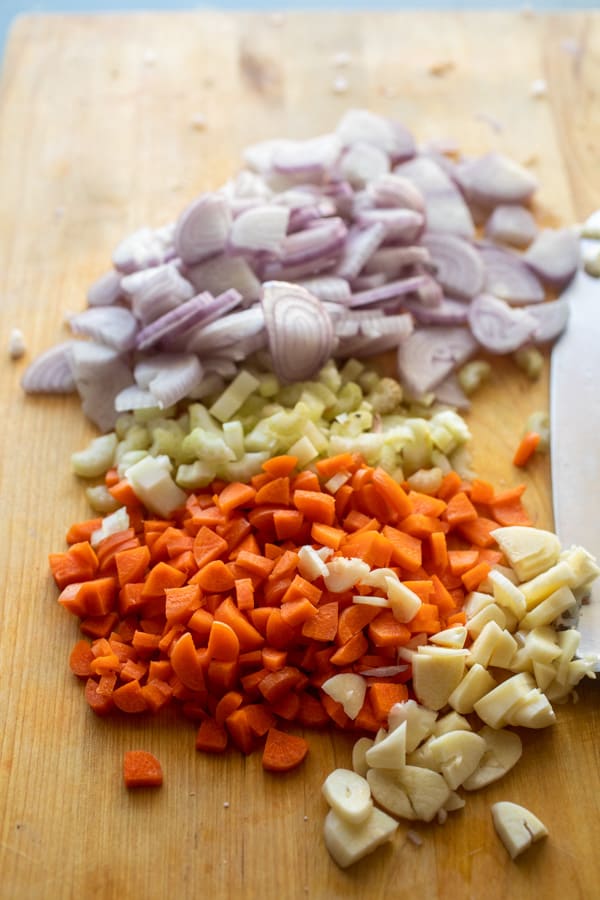 Starting the Pork Ragu in a Pressure Cooker
Before you saute the veggies, cut the pork into big chunks and add it to a hot skillet (or the pot of your pressure cooker if it has a saute function) with olive oil. Brown the pork well on all sides. This will really improve the depth of flavor in the final sauce.
You might be tempted to skip this browning step as it does require more time, but please don't skip it! Adding unbrowned meat to the ragu will result in way less flavor in the finished ragu. It is probably the most important step regardless of how you are cooking the pork ragu.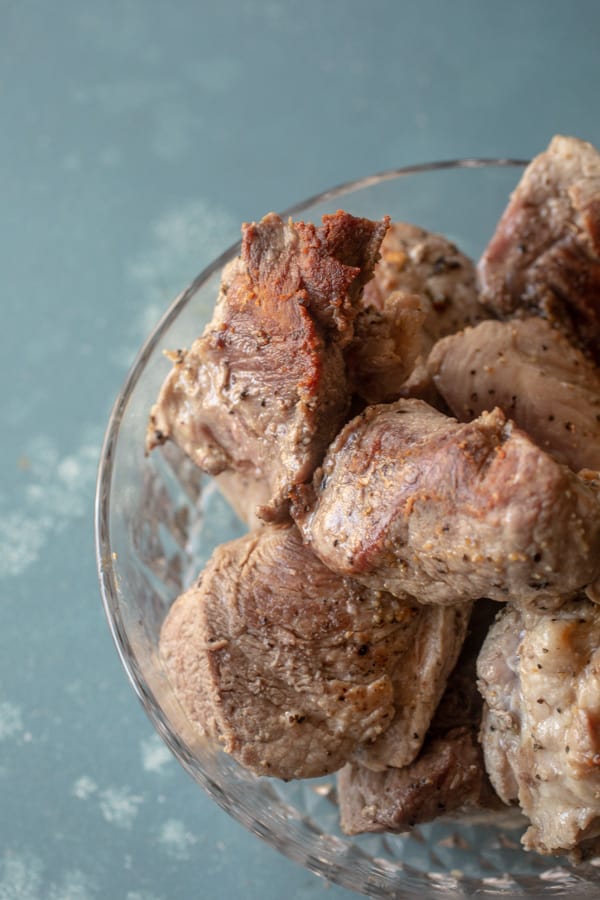 Saute your veggies after the meat and then use the liquid (tomato paste + red wine + water) to scrape up any stuck bits. Stir this all together well and add the pork pieces back in.
This is ready to pressurize!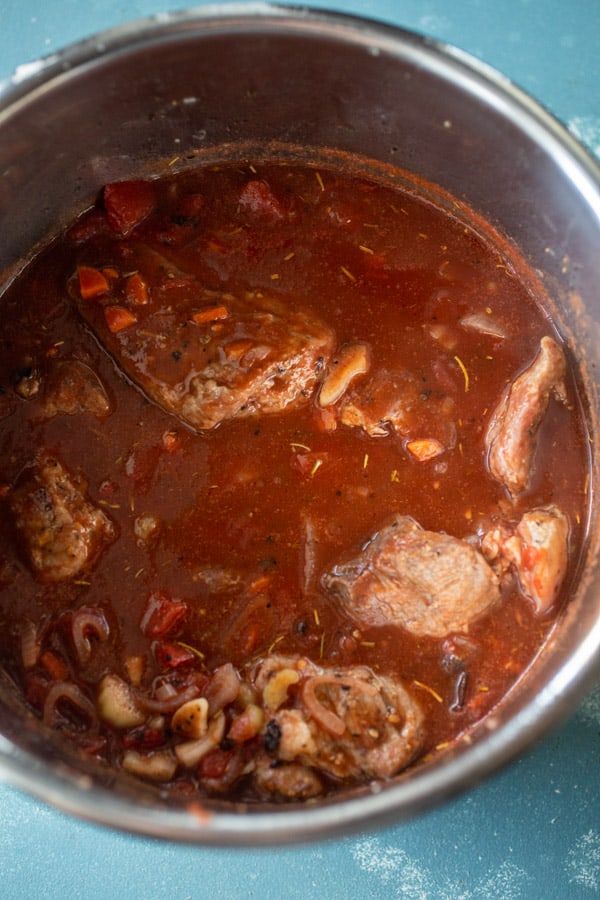 In your pressure cooker (like instant pot) cook the ragu on high pressure for 35 minutes. Then turn off the cooker and let it cool naturally for five to ten minutes. Then you can manually release the pressure.
Remove the pork pieces and shred them with a few forks. They will be fall-apart tender.
Finishing the Pork Ragu
Stir them back into the ragu and season the sauce with salt and pepper. It's ready to serve!
What to serve with pork ragu
You can technically serve this ragu over any pasta (or polenta!) but I like a larger pasta like rigatoni. It just holds up better to the hearty sauce in my opinion. Here are a few other serving options:
Spaghetti
Penne pasta
Rice
Baguette
How to make this recipe in a slow cooker
If you would like to make this in a slow cooker instead of a pressure cooker, feel free! The beginning steps should be the same. So, brown your meat well and saute the aromatics. Then use the red wine to deglaze the skillet and add all the ingredients to your slow cooker. The ragu will need to cook for 6 hours on high or 8 hours on low heat. Shred the meat and return it to the pot. If the ragu seems to liquid, you might need to pour off a little liquid to thicken it.
How to make this pork ragu on the stovetop
Of course, ragus like this have existed long before fancy cooking equipment and all you need to make it is a sturdy pot or Dutch oven. Brown the meat in the pot, then sautee the aromatics. Add the liquid to scrape up any bits stuck to the pan. Then turn heat down to low and simmer the ragu, covered, until the meat is very tender, probably 3-4 hours. You'll need to occasionally hit the pot with a little water if it gets too dry.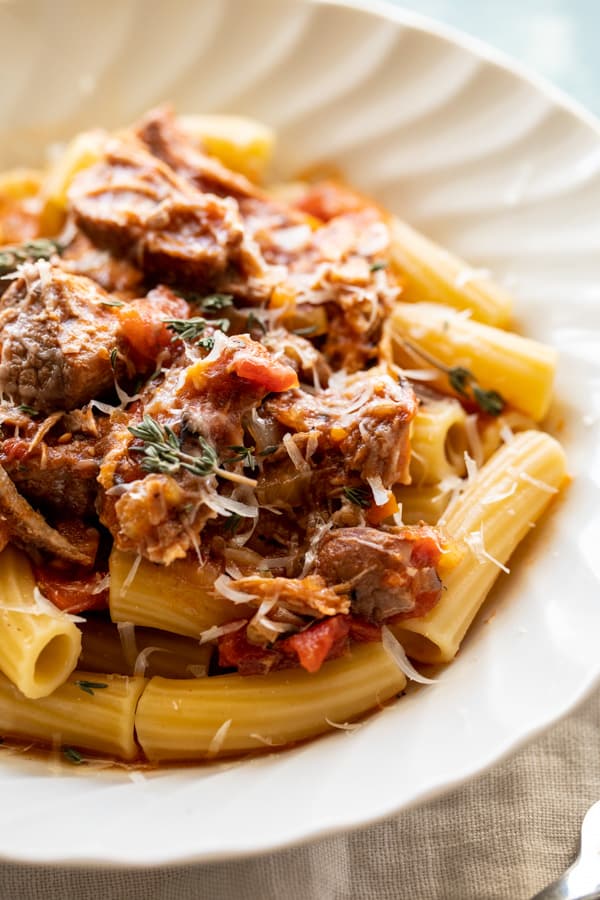 Garnish this pork ragu with a big pinch of fresh parsley and as much Parmesan as you would like.
Leftovers and storage instructions
This recipe makes a lot of ragu. You'll almost certainly have leftovers, which is a wonderful problem to have. The leftovers will keep well in the fridge for 4-5 days and you can reheat the leftovers in a small pot with a splash of water or in the microwave.
This ragu also freezes well in freezer safe bags. It'll be great for up to three months out of the freezer.
This pork ragu perfect winter meal in about an hour! Plus, you'll probably have leftovers and they are better on day two!
Pressure Cooker Pork Ragu
This Easy Pork Ragu should be on everybody's winter menu! I make mine in a pressure cooker and it's ready in under an hour, but you can also make it in a slow cooker! Classic Italian food done right, but also super fast! YUM.
Ingredients
3

pounds

boneless pork butt

2

tablespoons

olive oil

5

shallots

,

chopped

1

carrot

,

chopped

1

stalk celery

,

chopped

4

cloves

garlic

,

chopped

½

teaspoon

kosher salt

½

teaspoon

black pepper

6

ounces

tomato paste

1

cup

red wine

1

cup

water

1

teaspoon

dried oregano

1

pound

pasta

,

for serving

Fresh parsley

,

garnish

Parmesan cheese

,

garnish
Instructions
Add olive oil to the pot of your pressure cooker and put in saute mode. If you aren't using a pressure cooker with multiple functions (or a slow cooker) add the olive oil to a large skillet over medium-high heat.

Cut pork butt into large chunks and season well with a pinch of salt and pepper. Add pork to hot pan and brown well on all sides (2-3 minutes per side).

Remove pork pieces and set aside. Add shallots, carrot, celery, and garlic to the pot or skillet. Continue to cook until veggies soften, another 4-5 minutes.

If you're using a pressure cooker, add the tomato sauce to the pan along with red wine and water. Scrape up any bits stuck to the pan, add oregano, and add pork pieces in.

Seal the pressure cooker and cook on high pressure 35 minutes. When the timer goes off, let the cooker cool naturally for five minutes and then you can release the pressure.

If you are using a slow cooker, add all ingredients to your slow cooker and mix well to combine. Cook on high heat for 6 hours.

To finish the ragu, remove pork pieces from the sauce and shred with forks. Return meat to the sauce and stir to combine. Taste and season to your liking with salt and pepper.

Serve pork ragu ladled over cooked pasta (I like a large shaped pasta like rigatoni). Garnish with fresh parsley and parmesan.

Leftover pork ragu will keep fine in the fridge for 5 days or freeze the ragu in freezer-safe bags for longer storage. Reheat pork ragu over low heat in a pot with a splash of water.
Nutrition
Serving:
1
plate
|
Calories:
526
kcal
|
Carbohydrates:
51
g
|
Protein:
41
g
|
Fat:
14
g
|
Saturated Fat:
4
g
|
Polyunsaturated Fat:
2
g
|
Monounsaturated Fat:
7
g
|
Trans Fat:
0.1
g
|
Cholesterol:
102
mg
|
Sodium:
437
mg
|
Potassium:
1046
mg
|
Fiber:
4
g
|
Sugar:
6
g
|
Vitamin A:
1607
IU
|
Vitamin C:
7
mg
|
Calcium:
66
mg
|
Iron:
4
mg
Did you make this recipe?
Here are a few other great recipes!