Over Labor day last week, I had some people over for a re-do of one of my favorite brunches: chicken and waffles. This was, in part, to practice for a baby shower next week that I'm helping with and chicken and waffles is on the menu.
That said, it was really just because it's my favorite brunch in the world.
The problem with the brunch though is that one dude can only make so many waffles at once so people kind of have to eat in shifts. This can be a bit unsmooth so I like to have out some snacks for those unfortunate enough to be at the end of the waffle line.
On this particular day I whipped up this Peach Coffee Cake which ended up being much better than expected. It was really dense but still really soft if that makes sense. I used peaches, but any stone fruit would do the trick I think.
Peach Coffee Cake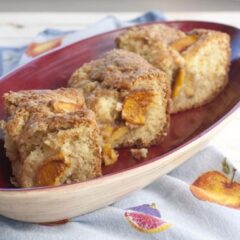 This is a moist and dense coffee cake with fresh peaches baked on top. Perfect with a big mug of coffee or as dessert!
Ingredients
2

cups

all-purpose flour

1

teaspoon

baking powder

1

teaspoon

baking soda

½

teaspoon

salt

½

cup

unsalted butter

,

soft

1

cup

sugar

2

eggs

1

cup

sour cream

1

teaspoon

vanilla extract

1

teaspoon

cinnamon

1

large peach

,

sliced
Streusel:
⅓

cup

sugar

⅓

cup

brown sugar

1

teaspoon

cinnamon

1

tablespoon

all-purpose flour

2

tablespoons

unsalted butter

Pinch

of salt
Instructions
Preheat oven to 350 degrees and lightly butter an 8×8 baking dish.

Stir together streusel ingredients. Mash butter into the streusel to make sure it is evenly distributed. Set aside until needed.

In a stand mixer with the paddle attachment or with a hand mixer, cream together butter and sugar for the batter. Meanwhile whisk together dry ingredients separately (flour, baking powder, baking soda, salt).

Once butter/sugar are light and fluffy, add in eggs, one at a time, and then mix in sour cream, vanilla, and cinnamon.

Stir in dry ingredients in two batches and mix until just combined. Try not to overmix the batter.

Pour half the batter into your buttered 8×8 dish. Then top with 2/3 of the streusel mixture. Then top with the other half of batter. Finish the cake with the rest of the streusel and top the cake with sliced peaches.

Bake coffee cake at 350 degrees for 55-60 minutes. Make sure the center of the cake is cooked through with a cake tester.

Let cake cool for 10-15 minutes and then slice and serve. Can be made a day in advance without a problem.
Nutrition
Serving:
1
slice
|
Calories:
457
kcal
|
Carbohydrates:
68
g
|
Protein:
5
g
|
Fat:
19
g
|
Saturated Fat:
11
g
|
Polyunsaturated Fat:
1
g
|
Monounsaturated Fat:
5
g
|
Trans Fat:
1
g
|
Cholesterol:
85
mg
|
Sodium:
327
mg
|
Potassium:
114
mg
|
Fiber:
1
g
|
Sugar:
45
g
|
Vitamin A:
661
IU
|
Vitamin C:
1
mg
|
Calcium:
78
mg
|
Iron:
2
mg
Did you make this recipe?
Peach Coffee Cake
The Batter
Every part of this recipe is pretty simple. The secret ingredient is subbing sour cream for what would traditionally be something like buttermilk. The sour cream just makes it really rich and decadent.
To start the batter, cream together the butter and sugar in a stand mixer (or hand mixer) with the paddle attachment.
Once the mixture is light and fluffy, crack in the eggs and stir them in one at a time. Then add the sour cream and vanilla. In a separate bowl, stir together your dry ingredients.
Mix the dry ingredients into the wet mixture until you can't see the flour. Try not to over-mix the batter.
Meanwhile, mix together the streusel ingredients in a separate bowl.
If you look through my old coffee cake recipes, you might notice a trend that all my streusel recipes are different… that's because I kind of wing them. Feel free to do the same!
Necessary ingredients are brown sugar, cinnamon, and butter. Go crazy from there.
The Fruit
You don't need a lot of fruit for this and actually you could leave it out and still be left with a really good coffee cake.
Assuming you can find some decent peaches or apricots though, toss them on for sure.
The key to the fruit is be sure to slice it on the thin side.
Making and Baking
When you're ready to bake this sucker, preheat your oven to 350 degrees. Then lightly butter an 8×8 baking dish and scoop in about half of your batter mixture.
It'll be pretty thick so you'll have to use a knife or something to spread it around.
Top that with 2/3s of your streusel mixture, then spread over the rest of your batter mixture.
To the very top of the cake, add the last 1/3 of streusel and the slices fruit.
Bake this sucker for 55-60 minutes at 350 degrees until a tester comes out clean from the center of the cake.
If you're like me, I like to pull my cake out when it is just a tiny bit undercooked so the cake is really moist and delicious.
This was my finished cake. For some reason a few of the peaches got swallowed up by the batter as it baked. So it goes.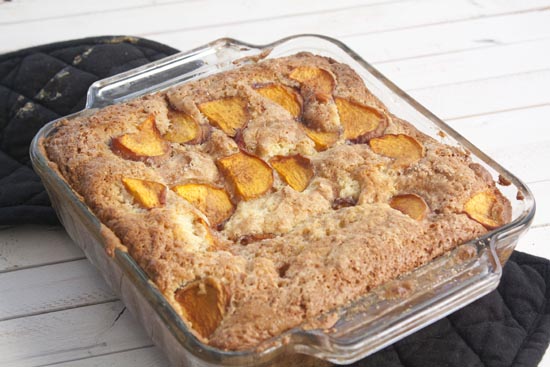 If you cut the cake into 9 even pieces almost every piece will have a nice soft interior and some crunchy bits on the outside which is ideal.
I recommend letting the cake cool for 20-30 minutes before cutting and serving though.
Give this Peach Coffee Cake a shot if you're looking for a good brunch baked good.
It was meant to be a holdover snack, but turned out way better than I expected!