Last summer I went to an epic wedding in Austin, TX. Just for a little taste of how epic the wedding was, I ended up in the emergency room at 3AM with a head wound. Had to get about a dozen staples and that was the night before the wedding. So epic.
The thing I remember most though was not the emergency room, but the amazing brunch I had the day after the emergency room. It involved this thing called migas. I haven't been to Texas in a very long time and I had definitely never had anything like migas before!
It's possible that their image is somehow permanently etched into my mind due to my blunt force trauma incident because I've been dreaming about them ever since! So I decided to make me some migas last weekend!
I later learned that there are actually two different kinds of migas. There is a Spanish version that involves fried bread and chorizo. This is not that version. This version of migas has strips of fried corn tortillas, lots of veggies, eggs and cheese all served on a flour tortillas. It's heaven.
This is the version I whipped up. I'm not sure how similar it is to the Texas version, but it's close.
Tex-Mex Migas
This version of migas has eggs, peppers, cheese and fried corn tortillas. Cook them together and then serve with refried beans, avocado, and flour tortillas.
Ingredients
8

eggs

¼

cup

milk

¼ – ⅓

Cup

neutral oil. I used Canola. You need enough oil to have a solid layer on the bottom of the pan.

½

medium onion

,

diced

1

red pepper

,

seeded and diced

1

poblano pepper

,

seeded and diced

1-3

jalapenos

,

seeded and diced depending on how hot you want it

2

cloves

garlic

,

minced

4

corn tortillas

,

cut into 1/2 inch strips

1

Cup

shredded cheese

,

I like a good cheddar

Salt and pepper

Flour Tortillas

,

for serving
Basic Refried Beans:
2 16

ounce

cans kidney beans

,

drained

4

Tablespoons

butter

½

onion

,

diced

2

cloves

garlic

,

minced

½ – 1

Cup

water

Salt and Pepper to taste
Additional things:
Refried beans

Avocado

Salsa or hot sauce
Instructions
Chop up the veggies for the migas as evenly as possible.

Dice up your corn tortillas into strips. Heat oil in a cast iron skillet over medium-high heat and fry corn strips until they are very cripsy. About 5-6 minutes should be good.

For refried beans, melt butter in a large skillet. Add onions and garlic over medium heat and cook until they are soft, about 3 minutes. Then add drained beans and a small amount of water. Use a fork or spatula to lightly mash the beans as they cook.

After your corn strips come out of the pan, pour out any extra oil. You only need a thin coat. Then add all the veggies and turn the heat to medium.

Cook the veggies until they are soft, about 4-5 minutes. Then add the corn strips back in and mix everything well.

In a separate bowl, whisk eggs with milk. Pour egg mixture over the veggies and corn strips.

Cook for a few minutes so the eggs start to firm up nicely, then add grated cheese.

Finish the migas in a 400 degree oven for 5 minutes or on the stovetop. Just heat until the eggs are firm and the cheese is melted.

Serve with beans and tortillas and plenty of hot sauce.
Nutrition
Serving:
2
Eggs
|
Calories:
692
kcal
|
Carbohydrates:
50
g
|
Protein:
32
g
|
Fat:
42
g
|
Saturated Fat:
15
g
|
Polyunsaturated Fat:
7
g
|
Monounsaturated Fat:
17
g
|
Trans Fat:
1
g
|
Cholesterol:
381
mg
|
Sodium:
415
mg
|
Potassium:
907
mg
|
Fiber:
13
g
|
Sugar:
5
g
|
Vitamin A:
2120
IU
|
Vitamin C:
71
mg
|
Calcium:
299
mg
|
Iron:
6
mg
Did you make this recipe?
Prepping your Ingredients
I'm pretty sure that the version I had in Austin had tomatoes in it, but tomatoes aren't the best this time of year in DC so I just skipped them. I think the migas may have been better with tomatoes, but I didn't miss them too much.
This is one of those dishes where I think it pays to take some time and chop your veg up as evenly as possible. Plus it's good practice!
Frying the Corn Strips
One of the big things that sets this dish apart from say a frittata is the fried corn strips. The give the final product a great texture.
Start out by heating up your oil over medium-high heat in a large heavy skillet. I used my cast iron skillet to cook this entire dish in. It's a one dish meal.
You need enough oil to have a good solid layer on the bottom of the pan. I probably used about 1/3 of a Cup of oil. Once your oil is hot, add all your sliced corn strips in at once and let them start to fry. Turn them a few times to make sure they are cooking evenly.
After 5 or 6 minutes they should be nice and crispy.
Refried Beans
I decided to make some refried beans to serve with the migas. I happened to have some beans already cooked, but otherwise I would just use canned. A lot of refried bean recipes call for lard, but I just used butter. They were still delicious.
Get your butter melted in a large skillet and then add your onions and garlic and cook them for a few minutes until they are soft. Then add in all your beans and a small amount of water.
Then using a spatula or fork (don't use a fork if you are using a nonstick pan though), mash up the beans as they cook. If they ever look dry, add more water. I like mine kind of rustic and not totally smooth.
It's kind of a workout, but they are worth it!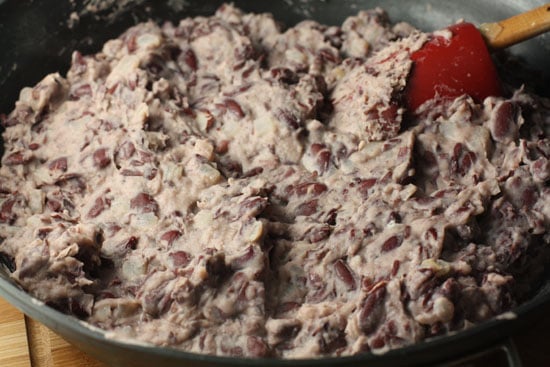 If you don't use all of these for the brunch, just make frozen burritos with the leftovers!
Making the Migas
After your corn strips come out of the pan, don't wash the pan! Instead, pour out any extra oil that's left from the frying. Now you only need a thin coat. Then add all your vegetables to the pan and keep it over medium heat.
Cook those vegetables until they are a bit soft, but not soggy at all. I cooked mine for maybe 4-5 minutes. Then add in your fried corn strips and mix everything together.
Once everything is mixed together, combine your eggs and milk in a large bowl and whisk them together. Then pour the eggs into the skillet!
Let those sit for a minute or so over heat to firm up a bit and then mix them up slightly with a spoon or spatula. Then add your shredded cheese!
To finish off the migas after you add the cheese, you have two options: 1) add the pan back to the heat and let them cook until the cheese is melted and the eggs are done, probably 3-5 minutes or 2) stick the pan in a 400 degree oven for a few minutes to melt the cheese and finish cooking the eggs. I went with the oven route just because I was worried about burning the eggs on the stove.
I think either option would work fine, but if you have an oven safe pan, I'd go the oven route.
Then serve up a healthy portion of the migas with some beans and tortillas. I also served mine with some sliced avocado and plenty of hot sauce.
These were pretty much my ideal savory brunch after a long night out (and a short stint in the ER). Neither of those things are exactly necessary to enjoy this awesome brunch meal though!