I bought a loaf of bread a few weeks ago. This is noteworthy because I very rarely do this anymore. It's become such a normal part of my weekly routine to mix up some no knead bread that I rarely have to buy the stuff. But occasionally, I still like to try new loaves.
The loaf I happened to pick out one day was lightly covered in a random assortment of seeds. It was totally good. But I figured that I could ramp up my own version of it and cram a ton of different seeds into and on top of the bread.
I wanted to make bread out of bird seed basically.
Not only did this turn out to be pretty easy, but it was maybe the best loaf of bread I've baked all year.
Bird Seed Bread
Soft wheat sandwich bread with a bunch of different seeds including sesame, poppy, pumpkin, and millet grain.
Ingredients
1 ⅓

Cups

assorted seeds or grains

,

I used millet, poppy seeds, sesame seeds

3 ¾

Cups

bread flour

,

17 ounces

1

Cup

whole wheat flour (you can use all bread flour if you want)

,

4.5 ounces

1 ½

Teaspoons

salt

¼

Cup

powdered milk

,

or 1/4 Cup whole milk and minus 1/4 Cup from water amount

2

Tablespoons

sugar

2

Teaspoons

instant yeast

1

large egg slightly beaten

4

Tablespoons

unsalted butter

,

melted

1 ¾

Cups

water

,

room temp
Instructions
Add all your dry ingredients to a bowl including the seeds and grains and mix up.

Whisk together liquid ingredients and then stir into dry ingredients.

If using a stand mixer, mix on low speed with a dough hook until a ball forms. Then mix on medium-low speed until it passes the windowpane test. If you're using your hands, stir the ingredients together and then knead on a floured surface until the dough passes the windowpane test, about 12 minutes of kneading.

NOTE: It's kind of hard for this dough to actually pass the windowpane test due to all the seeds in the bread, but it should be a very smooth dough.

Once the dough is formed, add it to a lightly oil bowl, cover it with a damp towel, and let it rise at room temperature for 2 hours, or until it doubles in size.

Once you're ready to form your loaf, roll the dough out into a large rectangle. Then roll it up and set it so the seam is on the bottom of the loaf. Tuck the edges down so it's a solid smooth loaf.

Spray the loaf with water. Spray it well! Then sprinkle on your desired seeds and grains. Really press the seeds into the loaf so they stick well.

Cover the loaf with a damp towel and let it rise for another 30 minutes.

Bake the loaf at 350 degrees for 45-50 minutes or until it's a deep golden brown.

9) Cool the loaf on a wire rack for an hour before slicing and serving.

The loaf will store perfectly fine in a plastic bag for a week or two in the fridge. It makes the best toast you'll ever eat!
Nutrition
Serving:
1
slice
|
Calories:
558
kcal
|
Carbohydrates:
62
g
|
Protein:
24
g
|
Fat:
24
g
|
Saturated Fat:
6
g
|
Polyunsaturated Fat:
13
g
|
Monounsaturated Fat:
4
g
|
Trans Fat:
0.2
g
|
Cholesterol:
39
mg
|
Sodium:
463
mg
|
Potassium:
204
mg
|
Fiber:
5
g
|
Sugar:
5
g
|
Vitamin A:
417
IU
|
Vitamin C:
0.4
mg
|
Calcium:
110
mg
|
Iron:
6
mg
Did you make this recipe?
Making the Dough
You could possibly even go crazier than I did on the seed/grain additions, but I kept it pretty simple. I decided to mix three things into the actual dough itself: Millet, poppy seeds, and sesame seeds.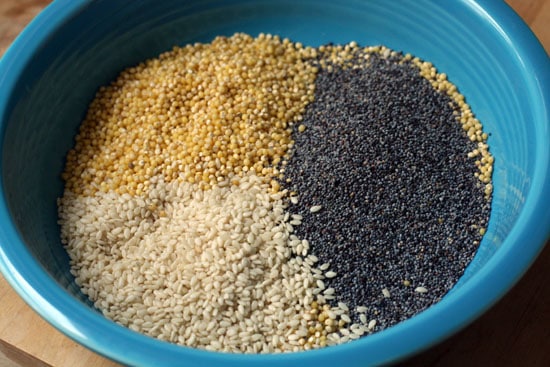 As with most doughs, start by adding all your dry ingredients into a large bowl. If you down have powdered milk handy, you can use normal milk. Just add 1/4 Cup whole milk and subtract 1/4 Cup from the water amount.
So anyway, mix all your dry stuff together!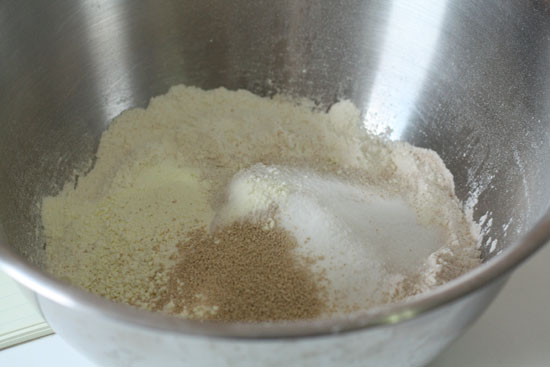 Then add all your seeds and grains to this dry stuff. I was a bit worried at this point that this wasn't going to work, but too late to turn back now!
Once all your dry stuff is well-combined, whisk together your water, melted butter, and egg in a separate bowl and then add that to the party.
If you're using a mixer, just mix everything on low until it forms a ball. Or, if you're working with your hands, use a big spoon to pull everything together. It should be a pretty loose dough, but not sticky at all. If it's sticky, add more flour.
Once you get it in a ball, you can either switch to the dough hook and mix on medium-low for 8 minutes or so or, if you're using hands, turn it out onto a floured surface like so:
Kneading the dough
People always complain that kneading dough is a lot of work, but I find it to be relaxing actually. Sure. It's not as easy as flipping a switch, but it only takes ten minutes and trust me, the results are worth it.
In this case, I think I added a bit too much water to my dough, so I had to knead in probably another 1/2 cup of flour. The dough should be smooth, but not sticky, so if it's sticky then you need more flour!
After 10-12 minutes of kneading, you should have a wonderful ball of bird seed dough!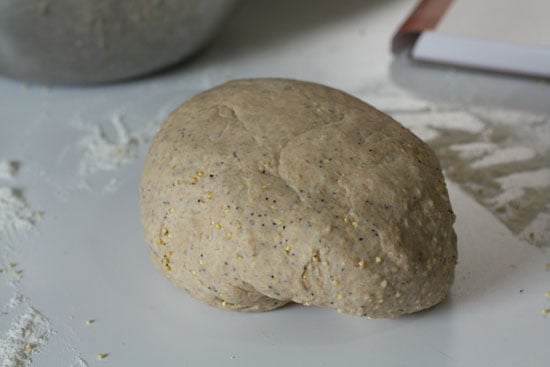 In theory, this dough should pass the windowpane test, but it's kind of hard to actually test it because the seeds break up the windowpane action. If you knead studiously for 10-12 minutes though, you'll be in a good place.
The first rising
Once your dough is formed, lightly oil a large bowl and add your dough. Give it a turn to coat the dough evenly with oil. Then cover it with a damp towel and let it rise for 2 hours.
It should easily double in size. It'll be very pretty. Like this:
Shaping the Loaf
If you're making a big loaf like I did (which I recommend), then it's really easy. Lightly flour a clean surface and roll your dough out into a large rectangle. Keep it about 1/2 inch thick.
Then roll it up! Turn it so the seam is on the bottom of the loaf and kind of tuck in the ends so you end up with smooth edges all the way around.
Like this.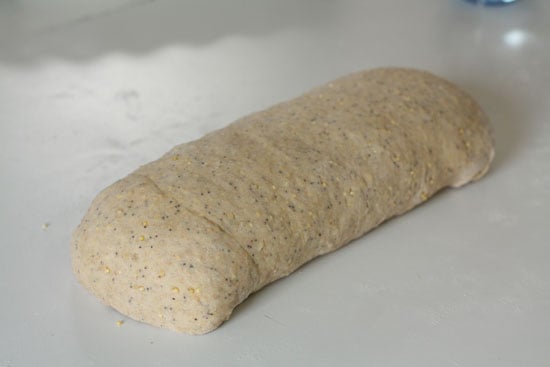 Don't stress about the loaf forming. Even if it isn't perfect, it'll be delicious.
Once your loaf is formed, lay it on a baking sheet lined with parchment paper.
Sticking on the Seeds
Sticking things onto a loaf of bread can be tricky. They have a tendency to fall off.
Here's the three tips to topping success:
1) Use more water than you would think to wet the top of the loaf. It should be glistening wet, but not soggy.
2) Really press the seeds in. Don't just sprinkle. They should leave indents.
3) Add the seeds before you let the loaf rise for a second time.
I have this nifty little blue spray bottle that I use for my loafs. You could also use a brush to brush on some water or just pat down the loaf with wet hands.
As far as toppings go, I used the same seeds that I incorporated into the dough and added some big pumpkin seeds also. These would be a bit large for the dough itself, but they look and taste amazing on top.
Like I said, really press all the seeds into the dough.
The Second Rising
After your seeds are stuck on, cover the loaf with a damp towel again and let it rise for another 30 minutes.
Baking
Bake this at 350 degrees for 45-50 minutes. It should be a wonderful golden brown color and sound kind of hollow if you thump it. To make sure it bakes evenly, also turn your baking pan halfway through the cooking.
As with all breads, let this cool for at least an hour before cutting into it. It'll be tempting I know, but there's still a lot of important things going on in there and you don't want to mess it up by slicing into it and letting all the steam escape too quickly.
I like the pictures for this bread, but they don't really even do it justice. There's something about the texture that all those seeds give that make this really wonderful.
If you've never, ever, baked a loaf of bread, this can be your first loaf. It isn't terribly hard, doesn't require days of prep, and you don't need any special equipment. It's also the best loaf of bread I've made all year.
Hopefully I've planted the seed…